Abbey Taylor Business Rescue and Recovery is here to help our Partners and Clients during the COVID-19 pandemic – including making it easier to navigate the full breadth of support that's available. This document highlights the many different support measures aimed at UK businesses and employees, explaining who is eligible, when the schemes open and how to apply. The Government have put together a comprehensive guide of these measures and can be found here.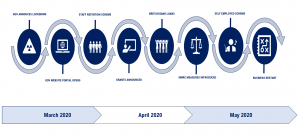 Government Backed Schemes:
Coronavirus Business Interruption Loan Scheme Click here
Asset Finance Accredited Click here
Coronavirus Job Retention Scheme Click here
Small Business Grant Funding Click here
Statutory Sick Pay Rebate Click here
Time to Pay Click here
COVID-19 Corporate Financing Facility Click here
VAT Deferral Click here
Deferral of Self-Assessment Tax returns – ICAEW  Click here
Self-employment Income Support Scheme Click here
British Bank Coronavirus Financial Support:
Coronavirus Large Business Interruption Loan Scheme Click here
Coronavirus Business Interruption Bounce Back Loans Scheme Click here
Coronavirus Future Fund Click here
This document was last updated on 5th May 2020. The information on this document is not intended to be comprehensive, and many details which may change. Correct at time of printing. @AbbeyTaylorLtd.